Resources for Faculty
Consultant Recommendation Form
Syllabus Language
We recommend that you include the following language in your syllabus about the UM Writing Centers:
Writing Center

Aside from one-on-one meetings with teachers during office hours, a great way to improve your writing is to work with writing consultants at one of the University's writing centers. Writing consultants will work with any student writer working on any project in any discipline. To learn more about the writing center locations, hours, scheduling and services, please go to rhetoric.olemiss.edu/writing-centers/

[insert location and phone number of the WC relevant to your class]

Graduate Writing Center, Lamar 405 (Oxford Campus), x3173 or gwc@olemiss.edu
Tupelo Writing Center, Room 261 (Tupelo Campus), x6259 or writingcentertupelo@olemiss.edu
Oxford Campus Writing Center, Suite C, Lamar Hall, x7689 or cwrwc@go.olemiss.edu
DeSoto Writing Center, Library (DeSoto Campus), 662-280-6209 or writingcenterdesoto@olemiss.edu
Blackboard Packages
The Writing Centers have developed two Blackboard packages that you can import into your course to bring instant access for your students to writing center general information, appointments, and helpful writing resources.
Uploading a Blackboard Package
Uploading a package to Blackboard is easy. First, download the package you want to import to your computer (but don't unzip it). Then, navigate to your course's control panel and select Import Package/View Logs.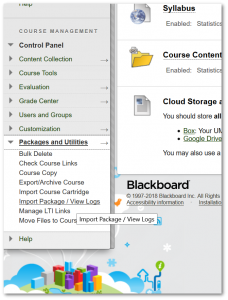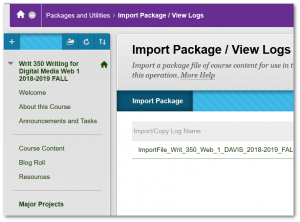 On the next screen, click Browse your Computer and select the zip file you downloaded. Under Select Course Materials, check the box next to Content Areas only (nothing else!).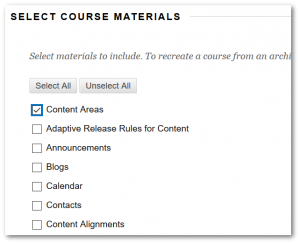 Finally, click Submit. After a minute or so, you'll see a new link in your course menu for UM Writing Centers or Graduate Writing Center.