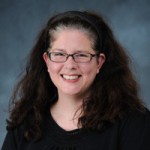 Wendy Goldberg
Core Lecturer of Writing
Lamar Hall B-19
Wendy Goldberg is a core instructor in the Department of Rhetoric at the University of Mississippi.  The six years prior to joining UM, she taught composition and speech at The United States Coast Guard Academy (New London, CT). She has also taught composition and literature courses at the University of Connecticut (Storrs, CT) and Three Rivers Community College (Norwich, CT) as well as summer courses at the Johns Hopkins' Center for Talented Youth.  She has presented and published papers on comics and anime and is currently the submissions editor for Mechademia, an annual forum for critical work on Japanese manga, anime, and related arts.
ABD – English with a concentration in medieval literature — University of Connecticut, Storrs, CT.
MA — English — University of Connecticut, Storrs, CT.
BA  — English with a minor in Writing — Oglethorpe University, Atlanta, GA.
Research Interests
– Electronic portfolios and assessment
– Comics and manga
Publications
"Blade of the Immortal."  Critical Survey of Graphic Novels: Manga.Ed. Bart H. Beaty and Stephen Weiner. Ipswich, MA: Salem Press, 2012.
Entries for the Encyclopedia of Comic Books and Graphic Novels. Greenwood Press. Editor M. Keith Booker, May 2010.
(Including entries on comics titles: Lone Wolf and Cub, Fun Home, and Strange Tales; artists and writers: Bill Sienkiewicz and Eddie Campbell).
"The Manga Phenomenon in America." Manga: An Anthology of Global and Cultural Perspectives. Ed. Toni Johnson-Woods. New York: Continuum International Publishing Group, April 2010.
"Transcending the Victim's History: Takahata Isao's Grave of the Fireflies." Mechademia #4. Ed. Frenchy Lunning. Minneapolis: University of Minnesota Press, 2009.