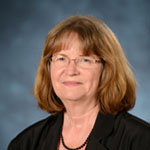 Asst. Professor and Asst. Chair
Alice Myatt is an Assistant Professor of Writing and Rhetoric and the Assistant Chair for the Department of Writing and Rhetoric, which administers first-year and advanced composition courses at the University of Mississippi. In addition to teaching rhetoric and composition, she is the academic advisor for the Professional Writing Minor, and she chairs a committee for the development of upper division courses. Since 2011, she has collaborated with Dr. Ellen Shelton, University of Mississippi Writing Project Director, in coordinating annual Transitioning to College Writing symposia, which has led to her interest in researching the academic writing identities of transfer students.
She currently is completing a chapter in a forthcoming edited collection, The Construction of Female Reputation, on Dr. Rosalind Franklin's rhetorical loss of and reclamation of professional identity (Franklin is now widely acknowledged as having been an integral part of the team that worked on the identification of the DNA structure). Other works in progress include a chapter with colleague Guy Krueger on the use of the Digital Archive of Literacy Narratives (DALN) as mentor texts in writing classrooms and a chapter in Multimodal Consulting: A Guide for Tutors, edited by Brian Fallon and Lindsey Sabatino.
She earned her Bachelor's degree in English from the University of Mississippi and earned her Ph. D. in English with a concentration in Composition and Rhetoric from Georgia State University in Atlanta.
Ph. D. in English, Composition and Rhetoric concentration, Georgia State University, Atlanta, Georgia
Associate of Arts with Honors, Itawamba Community College, Fulton, Mississippi
Bachelor of Arts in English, summa cum laude, The University of Mississippi, Oxford, Mississippi
Publications
Myatt, Alice J., and Lynée L. Gaillet, eds. Writing Program and Writing Center Collaborations: Transcending Boundaries. Macmillan, 2017.
Myatt, Alice J. "Enacting Partnerships: Writing Programs, Writing Centers, and the Collaboration Continuum." Writing Program and Writing Center Collaborations: Transcending Boundaries, Eds. Alice J. Myatt and Lynée L. Gaillet. Macmillan, 2017.
(with Ellen Shelton, U Miss) "Applications Of The Framework For Success In Postsecondary Writing At The University Of Mississippi: Shaping The Praxis Of Writing Instruction," in Applications for the Framework for Success in Postsecondary Writing: Scholarship, Theories, and Practice, under contract with Parlor Press, spring 2017.
"Reclaimed from Obscurity: Rosalind Franklin and the Discovery of the DNA Structure, in Remembering Women: The Construction of Female Reputation, under contract with University of South Carolina Press, 2017.
Research Interests
Professional and Technical Writing
Organizational Collaboration
Visual Rhetoric
Writing Center Theory and Praxis, especially assessment of
Digital Literacy
Cultural Rhetorics
Participatory Composition
Online Writing Consultations